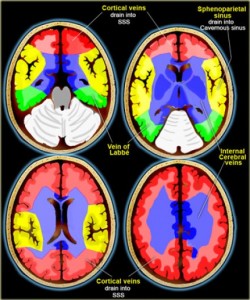 Los territorios venosos de drenaje cerebral aunque pueden representarse en un esquema presentan pueden presentar variantes de lanormalidad.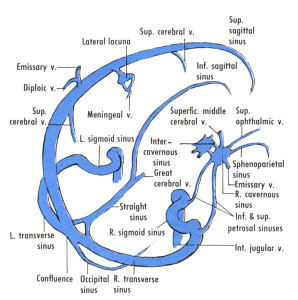 Hasta el 30% de los pacientes tiene un seno venoso hipoplásico o agenesia, sobretodo los senos laterales. Es por ello importante el estudio en fase aguda de RM, para valorar presencia de trombo agudo. Asimismo la secunecia angi-RM o angio-TAC nos mostrara del defecto de replección, pero no nos podrá decir si corresponde a una vena trombosada o agenética, sólo las secuencias T1-FLAIR y difusión de la RM puede corroborar esto.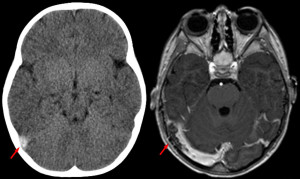 Click aquí para ver recomendaciones AHA/ASA en TVC⇐
Etiologías más importantes de trombosis venosa:
Thrombophilia
    Deficiencies of antithrombin, protein C, and protein S
    Factor V Leiden mutation
    Prothrombin gene mutation 20210
    Antiphospholipid antibodies
    Hyperhomocysteinemia
Women's health concerns
    Pregnancy
    Postpartum state
    Hormonal contraceptive or replacement therapy
Infection
    Localized infections such as otitis, mastoiditis, sinusitis
    Meningitis
    Systemic infectious disorders
Chronic inflammatory diseases
    Vasculitides
    Inflammatory bowel disease
Cancer
Hematologic disorders
    Polycythemia
    Essential thrombocytosis
    Paroxysmal nocturnal hemoglobinuria
Trauma
    Head trauma
    Local injury to cerebral sinuses or veins
    Jugular venous cannulation
    Neurosurgical procedures
    Lumbar puncture
Nephrotic syndrome
PRESENTACIÓN TROMBOSIS VENOSA CEREBRAL
Presionar aquí  ↵ y podrás visualizar presentación TVC tal y como sigue.